StoreFront is the WooCommerce Theme developed by the eponymous developer team. With over 100,000 active installs, StoreFront is one of WooCommerce themes the most used. Let's find out how to make Multilingual StoreFront. To achieve this we will show you how to translate StroreFront in every aspect.
StoreFront Translation & amp; Multilingual
ECommerce with WordPress and WooCommerce has been on the rise in recent years. Last year alone, more than 75% of new eCommerce sites around the world have relied on this solution. With a market share of more than 25% in the world of websites, WordPress has serious cards in hand to impose WooCommerce even more deeply. The success of WooCommerce can be explained by many factors such as being a simple plugin with all the features of eCommerce, an aesthetic interface and quality and also thanks to the themes WooCommerce. The very fast adoption of web designers for WooCommerce allowed the latter to benefit from a pool of themes of great qualities, and that very quickly. I'm sure this has contributed a lot to WooCommerce's need.
StoreFront is one of those themes. Simple, effective and thought for the conversion StoreFront is supported by the company behind WooCommerce, so needless to say that the integration of WooCommerce is second to none. There is even something to decorate StoreFront with additional features and free as the use of a burger menu instead of the classic menu.
When doing eCommerce, an element is often very important. This is the opportunity to trade with the world. To achieve this, nothing better than a multilingual WooCommerce site . By default, StoreFront does not support multilingual. We will show you that if we choose the good WordPress translation plugin , the task is simple and well done. For years, our choice on which is the best plugin WordPress translation is done. WPML is our choice. When it comes to making WooCommerce multilingual, WPML again to the solution that goes well with one of the best modules of the market WooCommerce Multilingual. This tutorial on rendering multilingual Storefront translating will therefore rely on the use of WPML.
Contents
To simplify your task, we have cut this guide in different steps. Steps that are found in this summary.
Let's go to translate Storefront
Translate pages
Translate categories and labels
Translating the texts of Storefront and its plugins
Translate the menu of your site
Translate the WooCommerce part with WCML
Conclusion
It is quite possible to proceed in stages when translating your site with Storefront. Do not hesitate to put this guide in your marks pages, it will allow you to return there more simply thereafter. Comments are also present to allow you to ask your questions or make a return on this guide 🙂

Let's go to translate Storefront
Gone, go to translate Storefront and allow us to create a quality multilingual WooCommerce site. The first thing of course is to have Storefront installed and have it enabled as the default theme for your WooCommerce site. To be sure, simply go to Appearance – & gt; Themes. You should have Storefront as an activated theme. If it is not the case, just do it.
Since the translation part of this guide is provided by WPML , let's make sure that this WordPress translation plugin is activated. In fact, you will also need the WPML String Translation, WPML Translation Management, WPML Media Translation and WooCommerce Multilingual modules on your site. These are additional modules to WPML that allow us to increase the possibilities of this WordPress plugin.
You may be using a WordPress and WooCommerce page builder of the Visual Composer type. If so, you can increase your user experience by enabling the WPML Translation Editor function. This module will allow you to make these pages translatable. A very big advantage of WPML is to activate only what we really need, while still having at our disposal advanced features to see very advanced.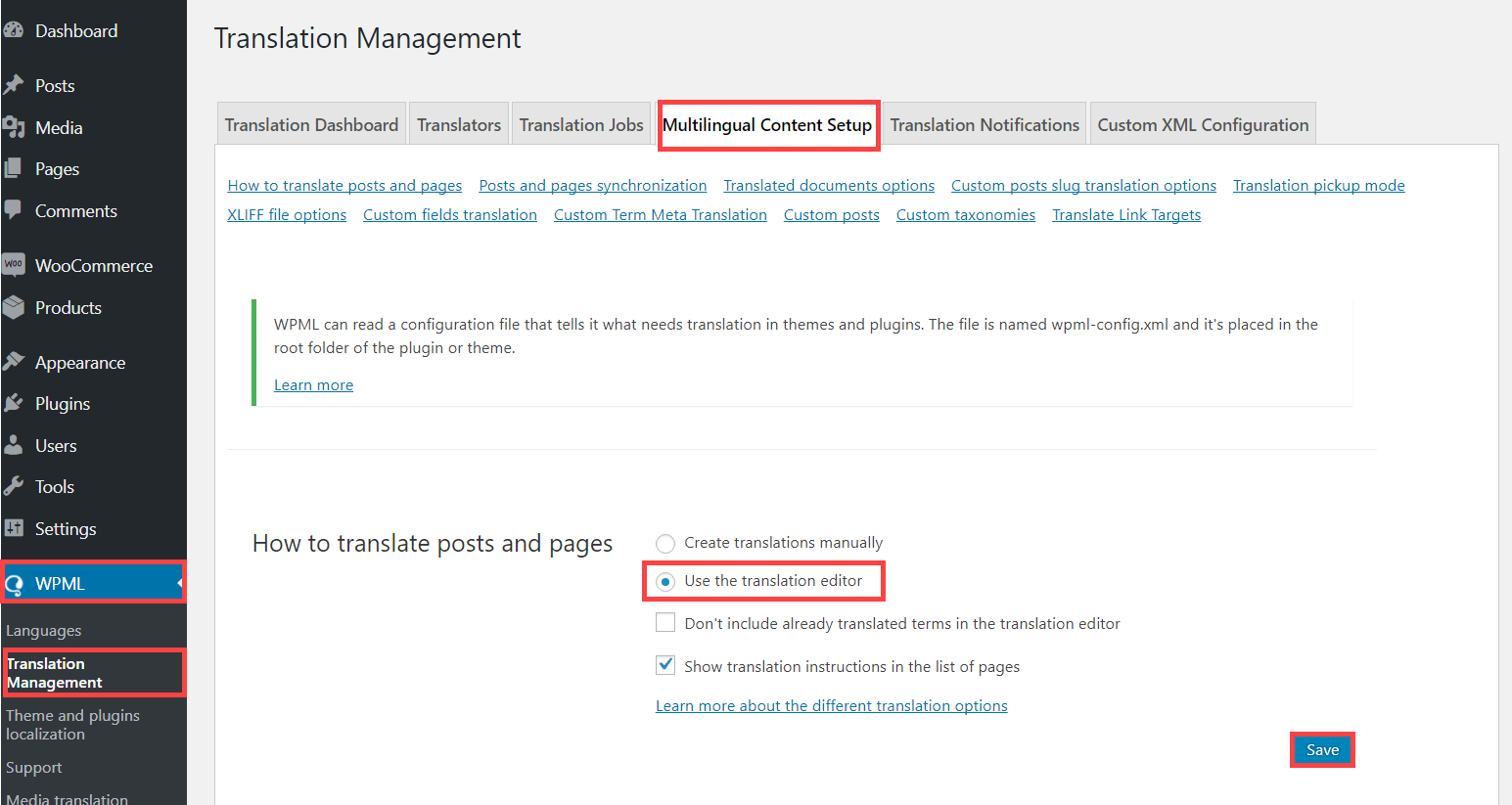 Translate pages
Translating pages is child's play with WPML. Like all other types of content elsewhere. WPML adds to the WordPress administration interface the ability to translate a page with a simple click on the flag of the language in which the translation is to be done. Do not hesitate to consult our guide How to translate your WordPress site ? to learn more.
Translate categories and labels
Just like for pages, WPML offers a translation of categories and simple and intuitive labels. You still have to see a little more clearly? No worries, we have the online help you need: How to translate WordPress taxonomies .
Translating the texts of Storefront and its plugins
In addition to your own content, you will find a large number of readable texts on your website that will come from either your WordPress theme or your WordPress plugins. To translate such texts, simply go to the String translation part of the WPML menu in your WordPress admin interface.
Translate the menu of your site
Manual translation of your menus? Synchronized translation between all menus, in all languages? With WPML you have the choice because it will allow you to manage these two methods of translating your WordPress menus. To learn how, just read how to translate your WordPress menus .
Translate the WooCommerce part with WCML
I told you, WPML is always at the forefront of what is best in the world of managing multilingual sites. Multilingual site management WooCommerce allows WPML to continue to shine. Managing the internationalization of an eCommerce site based on WooCommerce is complex because you have to manage very many elements (categories, variations, payment, conversion tunnel, customer area …). WPML proposes a plugin entirely directed towards the management of a Multilingual WooCommerce with WCML for WooCommerce Multilingual. After reading our multilingual WooCommerce guide you will be able to launch your own multilingual WooCommerce shop.
Conclusion
Storefront is a very widespread WooCommerce theme. As such, being able to offer a multilingual version of the latter makes sense if you want to reach an international clientele. Thanks to WPML, we could see how the translation of Storefront could be simple.
More multilingual WordPress guides
These different guides on multilingual WordPress should also interest you. You can also find all our guides in the section Multilingual WordPress Guides from wp-multilingual.com
Multilingual WordPress Guides
Multilingual Compatible Plugin Guides
Multilingual Compatible Themes Guides